Tenerife Reina Sofia Airport Arrivals (TFS)
Not all flights may be showing. If not available use search above to find your flight by airline, airport or flight number.
Origin
Airline
Flight no.
Scheduled
Est./Actual
Status
Bordeaux (BOD)
easyJet
U21851
05:20
17:19
Landed
Lyon (LYS)
easyJet
U24385
05:25
Delayed
Oslo (OSL)
Norwegian
DY9034
05:25
17:09
Landed
Glasgow (GLA)
easyJet
U23113
05:35
Delayed
Milan (MXP)
easyJet
U23733
05:35
17:36
Landed
Santiago De Compostela (SCQ)
Ryanair
FR1124
05:40
17:39
Landed
Wasaw Modlin (WMI)
Ryanair
FR6121
05:45
17:51
Landed
Newcastle (NCL)
Jet2
LS505
05:50
18:01
Landed
Edinburgh (EDI)
Ryanair
FR2969
05:55
Scheduled
Manchester (MAN)
easyJet
U22011
05:55
17:47
Landed
London (STN)
Jet2
LS1493
06:00
Delayed
Amsterdam (AMS)
Transavia
HV6671 expand_more(2)
06:05
Scheduled
Amsterdam (AMS)
Delta Air Lines
DL7505
06:05
Scheduled
Amsterdam (AMS)
KLM
KL2534
06:05
Scheduled
London (LGW)
easyJet
U28037
06:10
Delayed
London (LGW)
British Airways
BA2702 expand_more(2)
06:15
Delayed
London (LGW)
Iberia
IB7675
06:15
Delayed
London (LGW)
Qatar Airways
QR9785
06:15
Delayed
Liverpool (LPL)
easyJet
U23365
06:15
Delayed
Las Palmas (LPA)
Binter Canarias
NT837 expand_more(1)
06:15
Scheduled
Las Palmas (LPA)
Iberia
IB82
06:15
Scheduled
Bordeaux (BOD)
Volotea
V72420
06:20
Delayed
Oslo (OSL)
SAS
SK4669
06:20
Scheduled
London (STN)
Ryanair
FR2425
06:30
Scheduled
Manchester (MAN)
Ryanair
RK4334
06:40
Scheduled
Lanzarote (ACE)
Binter Canarias
NT785
06:45
Scheduled
Barcelona (BCN)
Vueling
VY3220 expand_more(1)
06:45
Delayed
Barcelona (BCN)
Qatar Airways
QR3779
06:45
Delayed
Bristol (BRS)
easyJet
U22731
06:50
Delayed
Bologna (BLQ)
Malta Air
FR3896
07:00
Scheduled
Cork (ORK)
Aer Lingus
EI874
07:10
Scheduled
Bergamo (BGY)
Ryanair
FR2833
07:15
Delayed
Belfast (BFS)
easyJet
U23017
07:25
Scheduled
Aberdeen (ABZ)
TUI
BY1618
07:35
Scheduled
London (LGW)
easyJet
U28053
07:40
Scheduled
Dublin (DUB)
Ryanair
FR5555
08:00
Scheduled
Santa Cruz De La Palma (SPC)
Binter Canarias
NT769
08:40
Scheduled
Zagreb (ZAG)
Air Charter Scotland
EDC592
08:58
Delayed
No flight arrivals were found at Tenerife Reina Sofia Airport.

Flight Arrivals at Tenerife Reina Sofia Airport
Tenerife South Airport is located approximately 60 km, or 37 miles from the capital city of Tenerife, Santa Cruz de Tenerife, and very nearby many of the most popular holiday resorts in the southern areas of the island. These include the Playa de las Américas and Los Christianos, which also feature some of the best beaches in Tenerife. Tenerife is the largest of Spain's Canary Islands, famous for their spectacular coastlines, entertaining nightlife and wide variety of attractions, and Tenerife South Airport is the main airport of the island, handling over eleven million passengers per annum. Passengers arriving at Tenerife South Airport will find a number of useful facilities in the arrivals area, and transport options from outside the terminal building.
Tenerife South Airport was previously known as the Reina Sofia Airport, after Queen Sofia of Spain. It has the official airport code of TFS, and is the newer of the two airports serving Tenerife, as it was only constructed in the later 1970's. One of the main reasons why the island authorities requested a second airport was because of the technical difficulties suffered by Tenerife North Airport, due to adverse weather conditions. At this airport's location, there are frequent fogs which greatly inhibit visibility, and which was one of the major causes of an accident that is currently recorded as one of the worst in aviation history. Tenerife South Airport, located on the southern coastline of Tenerife, does not incur problems with fog, and has become the island's main airport.
The south airport is an important arrival point for local and international tourists, and is served by a number of airline companies. While Tenerife North handles mainly domestic flights, between the seven Canary Islands and to mainland Spain, Tenerife South receives flights from a greater variety of locations around the world. Budget airline companies are present, such as Ryanair, Easyjet, Germanwings and Air Berlin, while charter airline carriers include Monarch, Thomson Airways and Thomas Cook Airlines. Other airline companies offering flights to Tenerife South Airport are Air Europa, Air France, Aer Lingus, Norwegian Air Shuttle, Cimber Air, Meridiana Fly and Iberia. The airline carriers fly from UK destinations, such as London and Manchester, as well as from many other European locations, such as Italy, France and Germany.
Passengers arriving at Tenerife South Airport will find a single terminal building, well equipped for all their needs, and will receive an efficient service as well, as all airports operated by Aena are known as top-class facilities. Aena is the Spanish airport authority, and manages 47 airports and 2 heliports in Spain, and participates in the management of a further 28 airports in other locations of the world. Passengers will enter the airport building via one of eight airbridges, which are either directly connected to the terminal, or connected by airport passenger bus. There are two baggage reclaim areas, each with seven baggage carousels. The airport also has a Customs office in the arrival area, and an Office of the Canary Island Government, from where residents of the islands can request a VAT return on all items they have purchased on the mainland.
Spain is one of the countries that have signed the Schengen Agreement, and therefore passengers arriving at Tenerife South Airport from other Schengen countries may enter freely. Domestic flights are considered to be Schengen flights, and Schengen countries include Austria, Malta, France, Greece, Hungary, Italy, Luxembourg, Sweden, Poland, Portugal, the Netherlands, Finland and Belgium. Non European Union countries part of the Schengen agreement includes Iceland, Liechtenstein, Norway and Switzerland. Countries considered as non-Schengen are the United Kingdom, Ireland, Bulgaria, Cyprus and Romania. Passengers unsure of the arrival procedures and documents they will require at Tenerife South Airport can consult with their airline companies or travel agents.
Several car hire companies are found in the arrivals area of the airport, such as National, Avis, Sixt, Hertz, and Europcar. These are all internationally recognized car rental companies offering competitive rental rates, while popular local companies present include Centauro, Goldcar, Marbesol and Record Rent A Car. By rented car is the ideal way to explore all regions of Tenerife. Arriving passengers will also find banking and currency exchange services, offered by Caja Canarias, a post office, lost property office, meeting rooms for business conferences and a good selection of shops and restaurants. A number of information desks, which can provide details of airport services and tourism in Tenerife, are available as well.
Once ready to leave the airport, passengers can travel by bus or taxi, if they have not arranged a rented vehicle. There are three bus services from the airport, which travel to the holiday resorts in the area, the Tenerife North Airport, Santa Cruz de Tenerife and Puerto de la Cruz, and taxis waiting at the taxi rank will take you to any destination on the island. Taxis are however more expensive than the island's bus services, which are operated by TITSA. Further information regarding the time schedules of the buses can be found at www.titsa.com.
Tenerife South Airport is the perfect arrival point for all destinations on the island of Tenerife, and the airport's excellent services will be a good start to a wonderful holiday in the Canaries.
Was your flight delayed or cancelled?
You may be eligible to receive up to 600 EUR compensation per person in your party..
Claim Now!
Beat the Queues
Don't stand sweating for 45 mins waiting for Security. Get a fast track and get through in 5 mins or less.
Book now
Lounge like a VIP
Avoid the crowds. Get discounted access to the VIP airport lounge. Its not as expensive as you may think.
Book now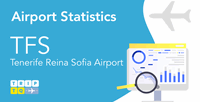 Tenerife South Airport, located in Spain, experienced an impressive surge in passenger numbers during September 2023...