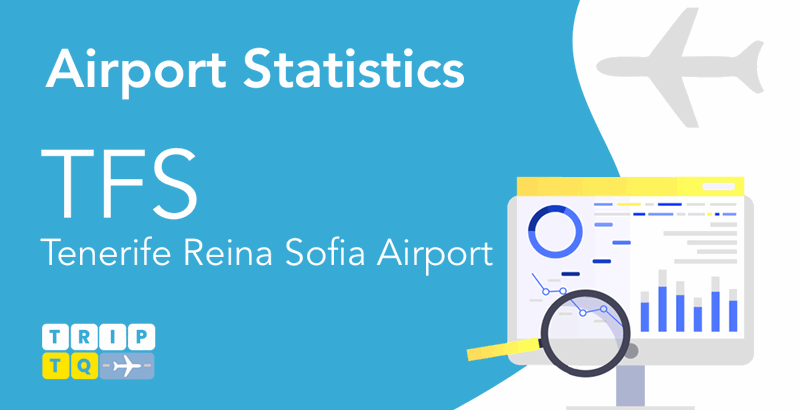 Tenerife South Airport Passenger Numbers – Up 9% in September 2023
Tenerife South Airport, located in Spain, experienced an impressive surge in passenger numbers during September 2023. Official statistics reveal a notable 9% increase, with a recorded total of 903,898 passengers as opposed to 829,249 passengers in September 2019.
As airports worldwide strive to recover from the global pandemic and adapt to the new normal, Tenerife South Airport stands out as a shining example of resilience and success. Not only has it witnessed a significant increase in passenger traffic since 2019, but it has also overcome the challenges posed by the pandemic-induced lockdowns.
Rebounded Tourism Opportunities
The revival of tourism played a vital role in driving increased passenger traffic at Tenerife South Airport. With travel restrictions easing and people seeking well-deserved breaks, the allure of Tenerife's breathtaking landscapes, sunny beaches, and vibrant culture attracted visitors from around the globe. This influx of tourists led to a surge in flight demand, contributing to the airport's remarkable recovery.
Availability of Various Accommodations
Tenerife's diverse range of accommodations significantly affected the airport's rebound. From luxurious resorts to cozy boutique hotels and budget-friendly apartments, the island offers options for different preferences and budgets. This availability of accommodations, coupled with the implementation of safety protocols, instilled confidence in travelers, encouraging them to visit Tenerife and boosting passenger numbers at the airport.
Enhanced Health and Safety Measures
Tenerife South Airport swiftly adapted to the challenges of the pandemic by implementing stringent health and safety protocols. Rigorous cleaning procedures, social distancing measures, mandatory mask-wearing, and advanced air filtration systems reassured passengers, making them feel safe and confident in choosing Tenerife as their destination. Such proactive measures played a crucial role in the airport's recovery by instilling trust and ensuring passenger satisfaction.
Airline Partnerships and Connectivity
Tenerife South Airport established strategic partnerships with airlines to enhance connectivity and expand its reach. The airport diversified its flight offerings by fostering relationships with established carriers and low-cost airlines, attracting a wider range of passengers. This increased connectivity facilitated travel for tourists and catered to the growing demand from business travelers, contributing to the airport's impressive recovery.
Efficient Airport Management
Effective airport management played a pivotal role in Tenerife South Airport's rebound. The management team adapted swiftly, employing agile strategies to optimize operations while adhering to evolving regulations. Seamless check-in processes, streamlined security procedures, and improved passenger services contributed to enhanced customer experience. This dedication to efficiency and passenger satisfaction helped rebuild the airport's reputation and attract more travelers.
Government Support and Collaborative Effort
Tenerife South Airport benefited from robust government support and collaborative efforts between various stakeholders. Investments in infrastructure, promotional campaigns, and tax incentives provided essential support for the airport's recovery. Close collaboration between airport authorities, airlines, and local tourism boards also ensured a coordinated approach to stimulate passenger growth and revitalize the aviation industry.
The fast recovery of Tenerife South Airport amid the pandemic can be attributed to multiple factors. The rebound in tourism, the availability of diverse accommodations, stringent health and safety measures, expanded airline partnerships, efficient airport management, and supportive government initiatives all played a vital role in the airport's success. By adapting to the challenges presented by the global pandemic, Tenerife South Airport showcases the resilience and determination of the aviation industry.
UNBEATABLE VALUE CAR RENTAL

FREE
Amendments,
FREE
Cancellations,
NO
card fees!

airport_shuttle Need Airport Transfers?
Useful Information about Tenerife Reina Sofia Airport