Tenerife Reina Sofia Airport Departures (TFS)
Not all flights may be showing. If not available use search above to find your flight by airline, airport or flight number.
Destination
Airline
Flight no.
Scheduled
Est./Actual
Status
Glasgow (GLA)
easyJet
U23114
06:15
Scheduled
Warsaw (WMI)
Ryanair
FR6122
06:20
Scheduled
Oslo (OSL)
Norwegian
DY9035
06:20
Scheduled
Santiago (SCQ)
Ryanair
FR1123
06:20
Scheduled
Munich (MUC)
TUI
X3197
06:25
Scheduled
Milan (MXP)
easyJet
U23734
06:30
Scheduled
Edinburgh (EDI)
Ryanair
FR2970
06:30
Scheduled
Newcastle (NCL)
Jet2
LS506
06:35
Scheduled
La Palma (SPC)
Binter Canarias
NT766
06:50
Scheduled
Manchester (MAN)
easyJet
U22012
06:50
Scheduled
Amsterdam (AMS)
Transavia
HV6672 expand_more(2)
06:55
Scheduled
Amsterdam (AMS)
Delta Air Lines
DL7488
06:55
Scheduled
Amsterdam (AMS)
KLM
KL2591
06:55
Scheduled
Liverpool (LPL)
easyJet
U23366
06:55
Scheduled
London (LGW)
easyJet
U28038
07:00
Scheduled
Bordeaux (BOD)
Volotea
V72421
07:00
Scheduled
London (STN)
Jet2
LS1494
07:00
Scheduled
London (STN)
Ryanair
FR2529
07:05
Scheduled
London (LGW)
British Airways
BA2703 expand_more(1)
07:05
Scheduled
London (LGW)
Iberia
IB7679
07:05
Scheduled
Manchester (MAN)
Ryanair
RK4333
07:15
Scheduled
Lanzarote (ACE)
Binter Canarias
NT786
07:15
Scheduled
Oslo (OSL)
SAS
SK4670
07:20
Scheduled
Barcelona (BCN)
Vueling
VY3221 expand_more(1)
07:30
Scheduled
Barcelona (BCN)
Qatar Airways
QR3780
07:30
Scheduled
Bologna (BLQ)
Malta Air
FR3897
07:35
Scheduled
Bristol (BRS)
easyJet
U22732
07:40
Scheduled
Milan (BGY)
Ryanair
FR2832
07:50
Scheduled
Cork (ORK)
Aer Lingus
EI875
08:00
Scheduled
Belfast (BFS)
easyJet
U23018
08:15
Scheduled
Dublin (DUB)
Ryanair
FR5557
08:35
Scheduled
London (LGW)
easyJet
U28054
08:40
Scheduled
Gran Canaria (LPA)
Binter Canarias
NT846
09:10
Scheduled
No flight departures were found at Tenerife Reina Sofia Airport.

Flight Departures at Tenerife Reina Sofia Airport
Tenerife South Airport is the largest airport on the island of Tenerife, one of the famous Canary Islands, and is a gateway for millions of local and international tourists. Tenerife is the largest of Spain's Canary Islands with a wide variety of attractions, including the Teide National Park, visited by around four million people a year. Tenerife South Airport was formerly known as the Reina Sofia Airport, as it was inaugurated by Queen Sofia of Spain in 1978, and has the official airport code of TFS. The airport is served by a large number of airline companies, including charter and budget operators, and departing passengers will find all the facilities they require in the terminal building.
The island of Tenerife has an excellent road network; therefore passengers on departure flights from Tenerife South Airport will find it easy to get there by car. The airport is directly connected to the major motorway of the TF-1, which runs in a northerly direction along the eastern coastline of the island, to the capital city, Santa Cruz de Tenerife, located approximately 60 km from the airport. The TF-1, at Santa Cruz, is connected to the TF-5, which leads to the second airport on the island, Tenerife North Airport. There is also the minor road 6 leading to the south airport from the western part of Tenerife. Departing passengers will find adequate parking areas at the airport.
Alternatively, passengers can reach Tenerife South Airport by bus or taxi, but there are currently no railway connections available. The company TITSA operates the bus services on the island, and there are three routes to Tenerife South Airport. Passengers can travel by bus from all the most popular holiday resorts in the southern parts of the island, from Tenerife North Airport, Santa Cruz and from Puerto de la Cruz. Taxis, operated by Taxi Tenerife, are available from all areas of the island, and offer reasonable rates. Since that the island of Tenerife is not very large, passengers can easily travel by any form of transport from the northern to the southern coast.
The airline companies at Tenerife South Airport serve a wide variety of destinations, including international locations as well as the other Canary Islands and mainland Spain. However, the Tenerife North Airport is more popular for inter-island connections. Budget airline companies at Tenerife South include Ryanair, with flights to Barcelona, Birmingham, Liverpool, Hahn, Glasgow-Prestwick, the London airports of Luton and Stansted and Manchester, Easyjet, Germanwings and Air Berlin, while a few of the charter operators include Monarch, Thomson Airways and Thomas Cook Airlines. Iberia and Air Europa are also popular airline companies with departures to Alicante, Gran Canaria, Madrid and Bilbao.
Tenerife South Airport handles over seven million passengers per year, and over 50,000 aircraft movements per annum. It located in the municipality of Granadilla de Abona, nearby Arona and Morocco, and also only 20 km from the most popular holiday resort on the island, Playa de las Américas. There is one terminal building at the airport, and one long runway, capable of handling aircraft carriers of all sizes. It is a relatively new airport, as it was only built in the later 1970's. The airport was mainly requested because Tenerife North Airport suffered from technical difficulties due to frequent fog conditions, which caused one of the most serious accidents in aviation history. Tenerife South, due to its location on the southern coastline, does not expect this type of weather condition.
The departures area at Tenerife South Airport is large, covering an area of 10,800 square meters, and comprises of 87 check-in desks. This area has a capacity to handle 3,000 passengers during busier times at the airport. Once passengers have checked-in their hold luggage, and received their boarding ticket, they will proceed through the customs area to access the main departure area of the airport. This area is located on the first floor of the terminal, and also features a large shopping area. A pre-boarding area is located on the first floor, and 37 boarding gates are found on the ground floor. Three different offices for the purchase of airline tickets are also located opposite the check-in desks. The VIP lounge of Tenerife South Airport is referred to as the Montaña Roja VIP Lounge, and is well equipped for business passengers. There are two meeting rooms as well, known as the Aena Aeropuertos Lounge and the Teide Lounge. These two rooms can be hired for business meetings, courses, press conferences, conferences and receptions.
Further facilities at Tenerife South Airport include a post office and chapel in the public areas of the airport, currency exchange services by Caja Canarias, and banking services by Caja Canarias as well. The bank's hours of operation are from 08:30 to 14:00, Monday to Friday. Lost property offices are available, but no left luggage services, and families with young children will enjoy the play area at the airport. Tenerife South is fully equipped for the needs of disabled passengers, and passengers with reduced mobility. Disabled passengers can announce their arrival at the airport and request assistance from various meeting points found inside the terminal as well as nearby the parking area, and may even request further assistance from their airline company. The airport has suitable toilet facilities, ramps and elevators, and facilities such as public telephones and information desks are accessible as well.
Passengers on departure flights from Tenerife South Airport can expect to receive very friendly and efficient service at the airport, as all airports operated by Aena, the Spanish airport authorities, are regarded as world-class facilities.
Was your flight delayed or cancelled?
You may be eligible to receive up to 600 EUR compensation per person in your party..
Claim Now!
Beat the Queues
Don't stand sweating for 45 mins waiting for Security. Get a fast track and get through in 5 mins or less.
Book now
Lounge like a VIP
Avoid the crowds. Get discounted access to the VIP airport lounge. Its not as expensive as you may think.
Book now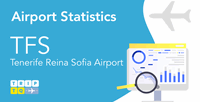 Tenerife South Airport, located in Spain, experienced an impressive surge in passenger numbers during September 2023...